Design Feature
Modular Construction for Customized Flexibility
Briqutting with roller presses follows a simple princifble: a fine raw material is fed into the space between two counter-rotating rollers, where it is then compressed and formed into briquettes.
The main functional assemblies provided for this purpose arei
● Press frame
● Pressing rollers with bearings and bearing housings
● Main drive with reduction gear
● Material feeder: Quantitative screw feeding and forced screw feeding
● Hydraulic pressuring system
● Greaselubrication
● Roller housing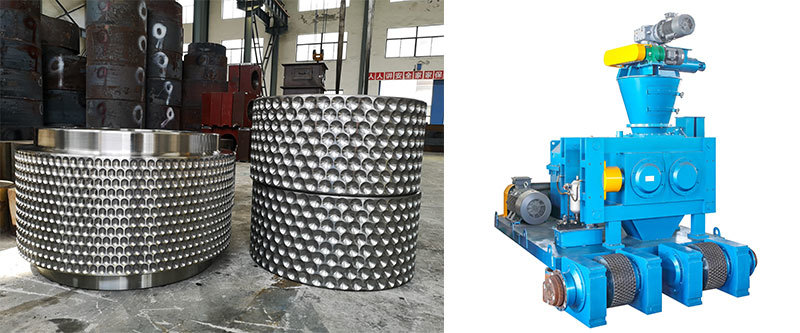 The fixed roller is supported directly in the press frame, while the so-called fioating roller is also supported in the frame. The movement of the floating roller constitutesthe basic principle of a roller press. The roller are driven by an electric motor in combination with a double-shaftgear box and tooth couplings. This system synchronizes the rollers and allows for the movement of the floating roller. Controlling the material feed into the roller nip is of paramount importance, whereby a gravity feeder can be used for materials with sufficient flow properties. Othel materials may require a screw feeder that forces the material into the nip between the rollers. The pressing drums are designed as round, or oblateor clam segments, and are fitted with pockets of the ell eoinues unulxeu buynsue snu 'lueisisel-jeem pueAppseiespolfursseidIAndelisedeyspueezispealspealsep and minimum expense. Refurbished pressing tools with a smaller than nominal diameter can also be used. A roller housing is provided for safely reasons and to rrinirrize dust errission.
Equipment parameters
Model
DH240
DH360
DH450
DH650
Roller diameter(mm)
Φ240
Φ360
Φ450
Φ650
Valid usable width of roller (mm)
100-160
170-300
190-280
290-450
Rotation rate(rpm)
It can be adjusted on site according to different material characteristics.
Finished product granule size (mm)
Customized according to customer requirements
Max.press force (KN/cm)
35
49
68
100
Compactor power(KW)
22
30-37
55-75
110-132
(L.W.H) External dimension (mm)
2300x1700x1860
2350x2000x2600
2600x2200x2900
3600x2800x3200
Compactor weight(t)
5
7
10
21
Model
DH850
DH1050
DH1250
DH1550
Roller diameter(mm)
Φ850
Φ1050
Φ1250
Φ1550
Valid usable width of roller (mm)
420-450
450-500
650
650
Rotation rate(rpm)
It can be adjusted on site according to different material characteristics.
Finished product granule size (mm)
Customized according to customer requirements
Max.press force (KN/cm)
180
361
450
550
Compactor power(KW)
220-250
400
630
630*2
(L.W.H) External dimension (mm)
500×3800×4100
7000×5000×6000
9700×5600×7700
10500×6000×8100
Compactor weight(t)
46
85-95
120-150
200-220
Process Technology
Briquetting without Binder
A number of substances can be converted into product of adequate strength without the addition of a binding agent. The material must of course possess inherent binding properties, whereby the bonding can be achieved in a number of different ways:
Plastification under pressure
Structures(crystalline or non-crystalline) are forced into each other and when the pressure is then reduced, the structures rearrange themselves and form an almost natural bond. This effect can for example be observed in various salts(NaCl, KCI) or metals.
Binder "on board"
One example is the lignin contained in biomass. On being subjected to pressure, the inherent lignin is squeezed out of the original structure into the voids between the particles.
Mechanical linkage
The particles interlink on account of their shape (e.g.metal turnings).
Capillary forces
Small water bridges from the bond between the particles. This requires a fine particle size distribution along with the correct proportion of water. The briquettes are soft and their physical properties are not suited to severe handling or transportation situations.
The briquetting process as such is quite simple. Raw material are metered out and homogenized before being fed to the roller press.FUYI tailors the roller press to the customer's requirements in terms of the:
● gravity feeder/screw feeder
● roller speed
● (specific) press force
● torque of the main drive
● briquette size and shape
● number of roller presses
● etc The roller press output can be screened so that undersize material is recycled back to the roller press.
Briquetting without binder-typical raw material
| | | | |
| --- | --- | --- | --- |
| ● Aluminum | ● CausticmagnesiaMgO | ● flyash | ● MAMaleic anhydride MA |
| ● Bentonite | ● Clay | ● Fluorspar | ● NaCISaltNaCI |
| ● CaOBurnt lime CaO | ● DimethylterephthalateDMT | ● Gypsum | ● Sodium cyanide NaCN |
| ● Caustic dolomite | ● Fluedust | ● Lateritic iron ore | ● Woodchips |
Single Roller Press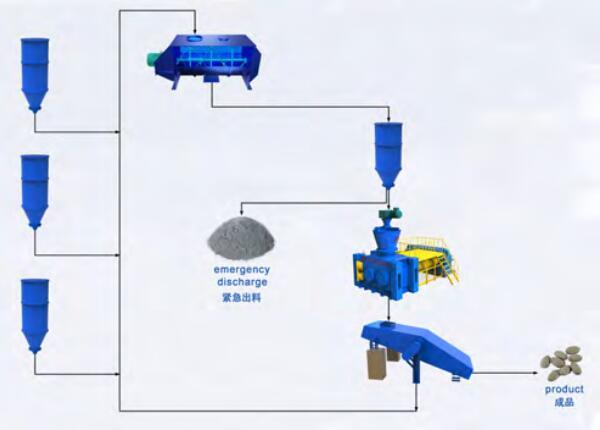 Multiple Roller Press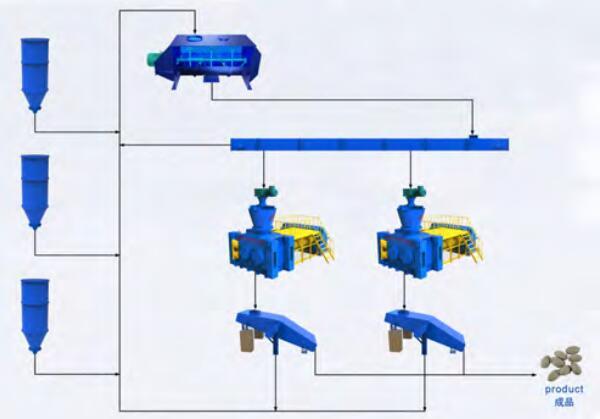 Finished product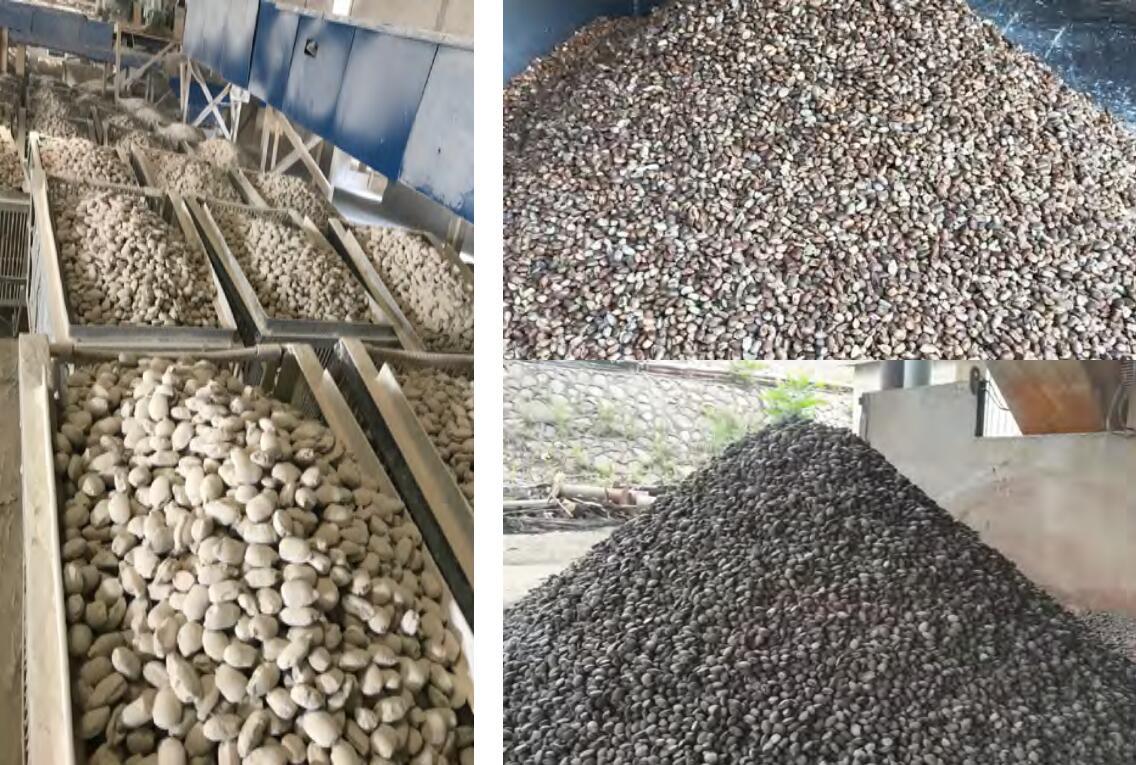 Briquetting with Binder
● Briquetting with binder-typical mixes
● Chrome ore with molasses/hydrated lime
● Coal with bitumen
● Coke fines with starch
● Copper-nickel concentrate with lignosulfonate
● DR/HBI plant residues with bentonite
● DRI fines with molasses/hydrated lime or sodium silicate/hydrated lime
● Feed for RHF-based DR process with starch
● Molybdenumoxidewithammonia solution
● Nickel powder with PVA
● Steel plant residues with molasses/hydrated lime
For cold briquetting at feed material temperatures of up to 100°C, it may be necessary to add binders to improve the briquette- forming characteristics.
Binders are primarily used for the briquetting of substances that have inadequate adhesive properties and are thus otherwise unsuitable for the production of firm briquettes. An example is the ubiquitous egg- -shaped coal briquette, which has been produced from coal fines for well over 100 years. Today, briquettes are usually illow- -shaped, with sizes ranging from 15 to 60cml. However, depending on the material to be briquetted and the customer's specific requirements, other forms and sizes of briquette are possible.
A variety of binding agents is available, but certain criteria need to be met for the right choice of binder. Clearly, the binder must function properly and the briquettes need to be robust enough to withstand handling on the way from the roller press to their usage destination. The subsequent processing also has its specific requirements; for example, a binder that corrodes the lining of a mtallurgical vessel will not be suitable, no matter how good its physical properties may be. And from an economic point of view, the binder must be available in sufficient quantties and at an acceptable price per ton of product.
Binders can be classified as:
● glucosidic (e.g. molasses, starch)
● inorganic solutions (e.g. sodium silicate)
● clays(e.g. bentonite)
● thermoplastic (e.g. bitumen, pitch)
● mortar-type(e.g. cement, hydrated lime)
● non-glucosidic organic solutions (e.g.resins)
● fibers(e.g. paper fuf)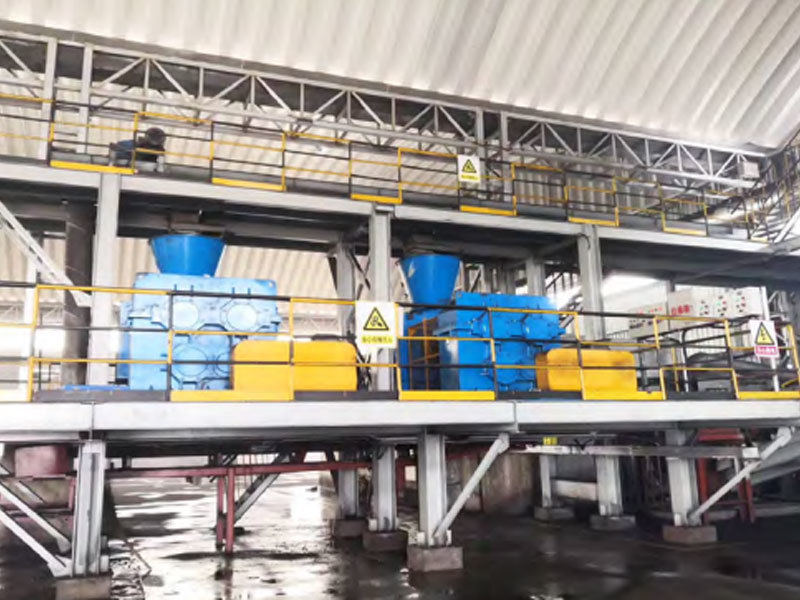 Keywords: DH series briquetting with roller presses