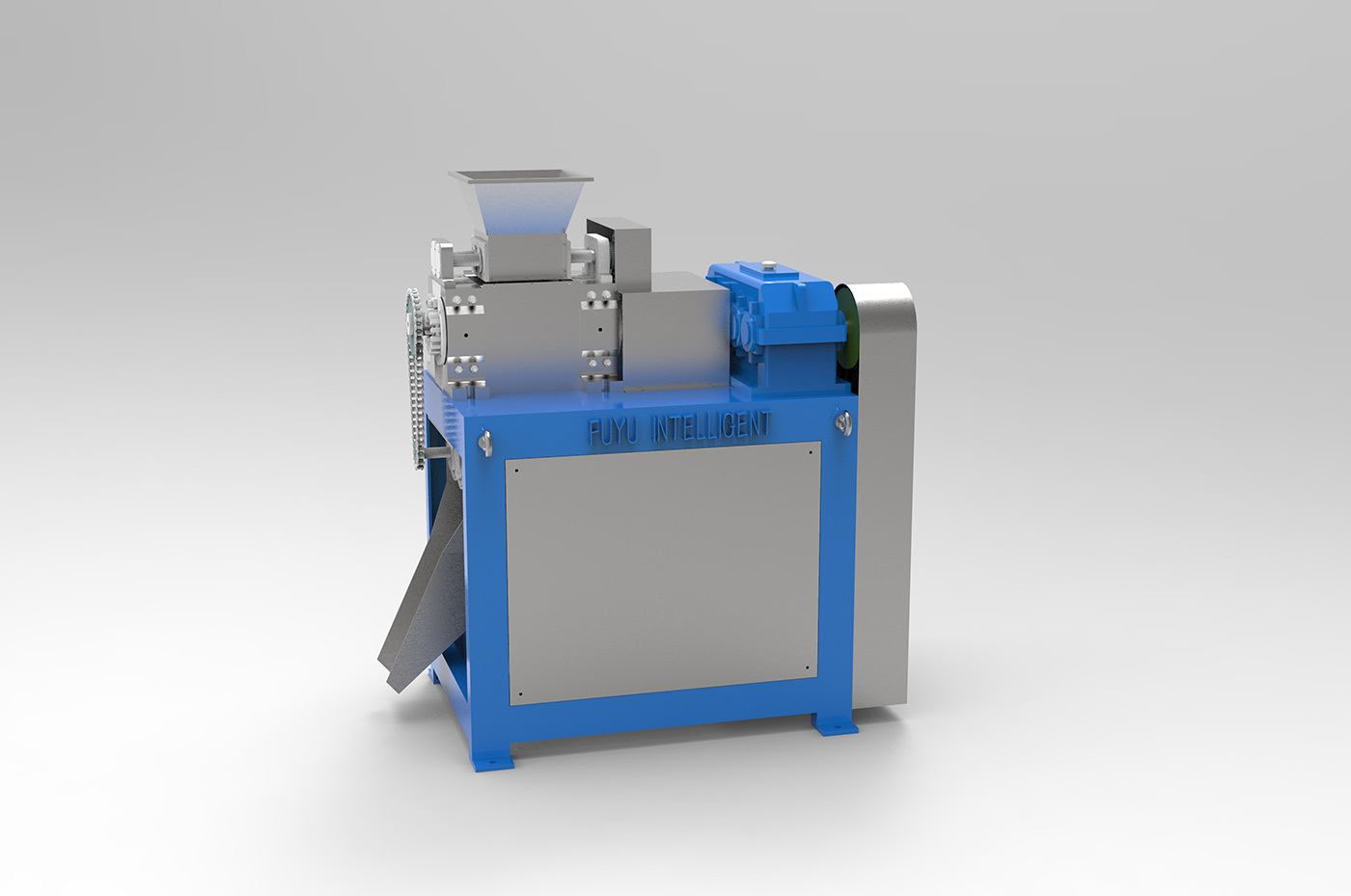 ROLLS DRIVE
The power unit of DG200 uses a 15KW motor and a double-shaft hard gear reducer。
1.Forced feeding device
For materials with light specific gravity and poor fluidity, the forced feeding device provides downward force to avoid material blockage.
2.Granulation roller
The material is compacted by a mold with holes, and the powder is pressed into granules (the mold can be customized)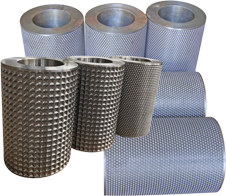 3.Crushing device
After passing through the roller ring, the material will form plates, break and destroy large plates, and screen out particles conforming to the particle size.
01
02
Product overview
DG series double roller granulator, granulation at nolmal temperature, high forming rate. It can produce oblate particles with φ4-φ10mm and various sheet products. It is widely used in the granulation of powder raw materials such as fertilizer, medicine and chemical industry, especially for the production of granular fertilizer such as ammonium sulfate, ammonium chloride, potassium chloride, potassium sulfate, salt, compound fertilizer, binary and ternary compound fertilizer (nutrient content of 255% - 53%). Our company can customize the fertilizer granulation line with an annual output of 30,000-500,000tons according to customers' requirements. The complete set of equipment has compact process layout, scientific and reasonable, advanced technology, energy saving and consumption reduction, environmental protection, stable operation and convenient maintenance.
Display of finished product granules

Working principle
The granulator is mainly divided into feeding part, compaction part, crushing part and screening part. The raw materials are continuously fed into the feeding part by the upper bin to be broken up, so that the materials are evenly fed into the middle of the double roller. The gapbetween the two rolls can be adjusted properly. At the same time, in order to ensure that the cavities on the two rolls can be completely aligned, one of the rolls can be adjusted properly from left to right. The compaction part is mainly composed of motor, belt transmission device, special reducer for hard tooth surface, coupling,drive wheel, bearing seat, bearing, roll, gear, etc. The crushing part is mainly to break up the flake material into granules, which is mainly composed of motor, transmission device, gear, bearing seat, bearing, and teeth breaking. The roll of this equipment is alloy steel, and the material of the breaking teeth is stainless steel. HT200 casting is selected for the base plate and bearing seat of the main part for consideration of corrosion resistance and stability. The material of hopper and outlet is stainless steel, and other materials are Q235. The surface hardness of the roller after surface thermal treatment reaches HRC60-65. However, due to the large amount of granulation, some of them will wear after a certain period of time, so they can no longer be granulated. Because the rolls in this equipment are vulnerable parts, they need to be replaced after a certain production cycle.
DG series wet type double roller granulator is one of the main products of Jiangsu Fuyu Intelligent Equipment Co., Ltd with products with good price and quality.Our factory is a professional suppliers china and Manufacturers china,Discount available for customized wholesale.
Model
DG-200
DG-300
Motor power
15KW
30KW
Output
900-1300 kg/h Oblate shape 900-1300 kg/h
1600-2100kg/h Oblate shape 1600-2100 kg/h
Reducer
Adopt hard
tooth surface dedicated reducer
Roller
Forged with alloy steel,heat treatment in special process, the surface of press roll can be plated with hard chromium to have rustproof and wear-resistant treatment.
Rate of finished product
60-90% Oblate shape 60-90%
Granular diameter
3.8、4.2、4.5、5、5.5、6.0、6.5、8、10mm
Granular shape
Oblate、irregular、strip、slice
Moisture of raw material
Inorganic materials: 2-5%, organic materials:6-12%
Working temperature
Normal temperature
Applicable materials
Ammonium carbonate,ammonium chloride, ammonium sulfate, ammonium phosphate, calcium magnesium phosphate, potassium chloride, potassium nitrate, potassium sulfate, humic acid,magnesium sulfate,zinc sulfateas well as all kinds of organic matters,etc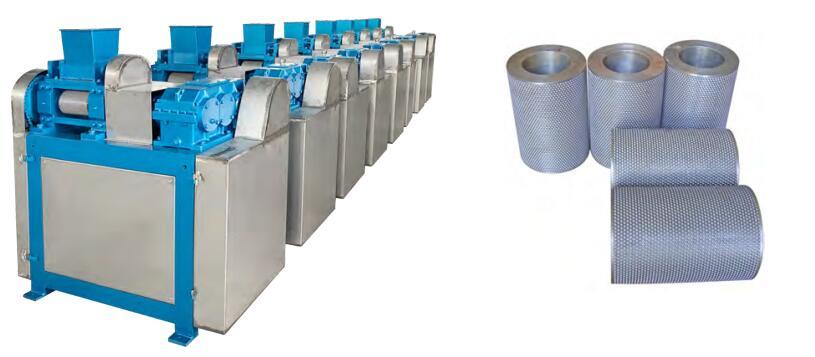 Process Technology
Suitable for small output
The process of DG series equipment is usually composed of four sets in a group.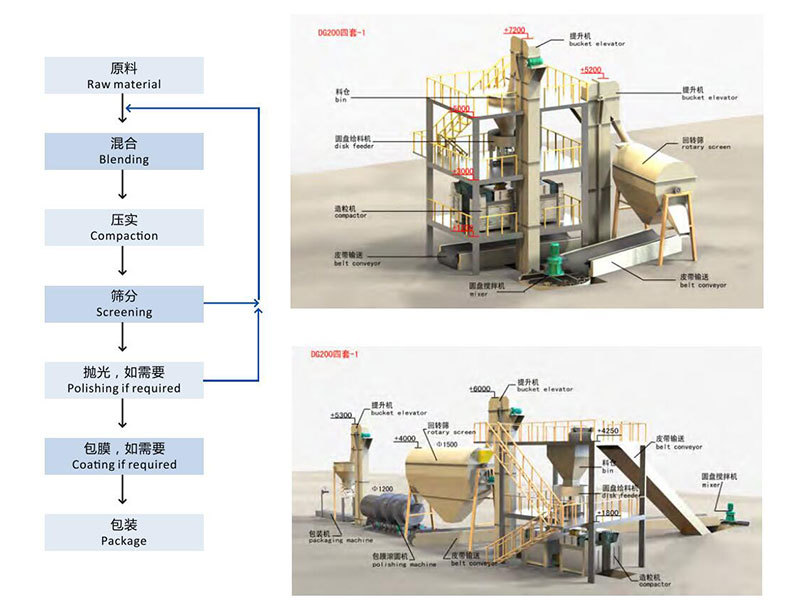 Suitable for large output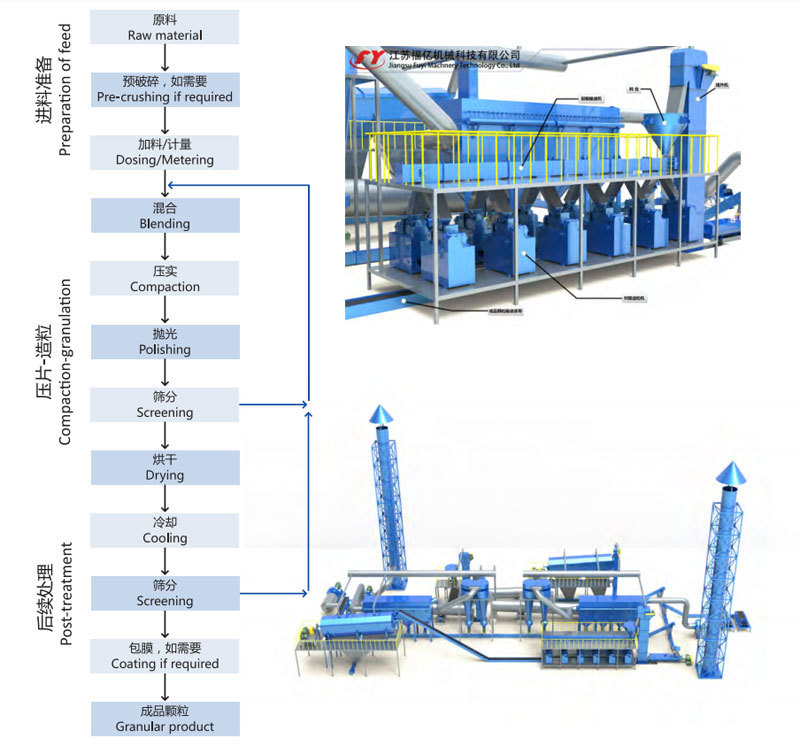 Keywords: DH series dry type roller press compactor